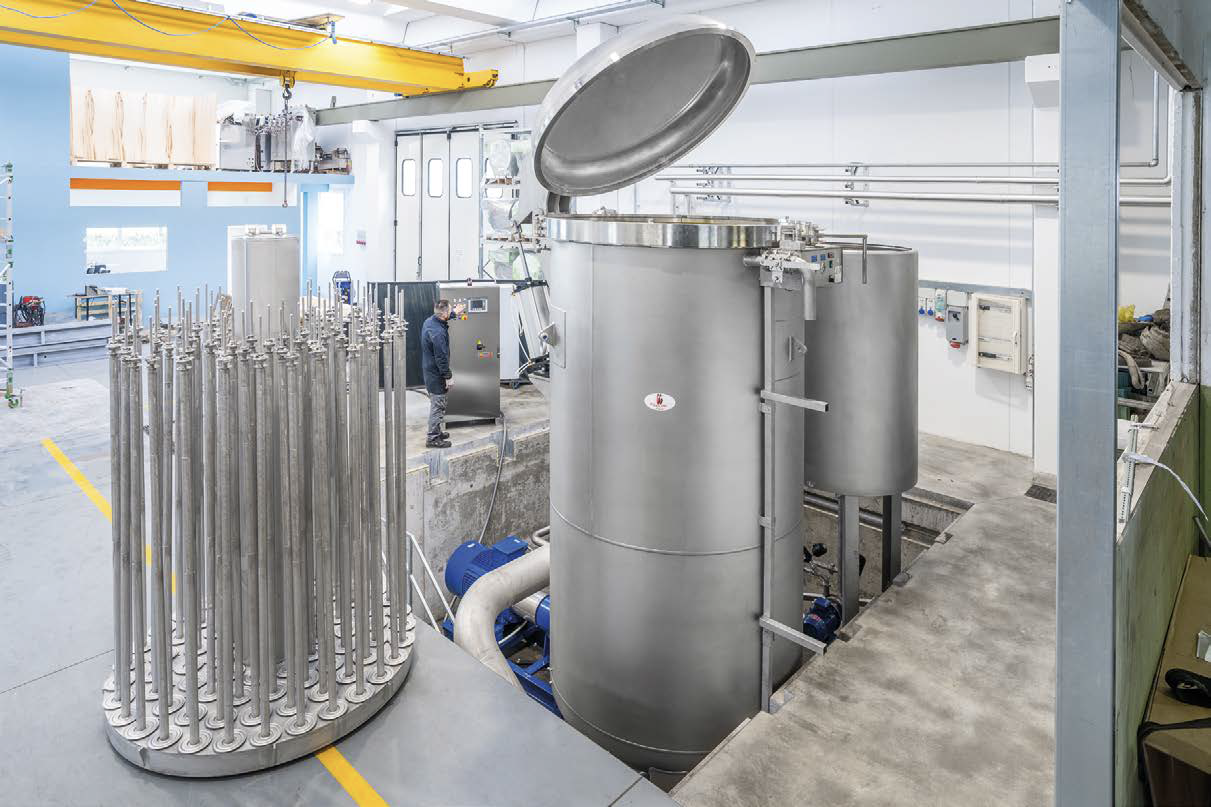 GSE 12/1200 Kg
The consumption of water, chemicals, electrical energy, thermal energy and the wasted water are important cost factors in every dye house. With this machine all these factors are dramatically reduced, measured and controlled.
Right-first-time in dyeing is now assured by lower differences inside-outside the packages, while savings of electric energy, water, chemicals, steam and compressed air will bring extremely fast payback times over the initial investment cost. New GSE sizes are from 12 kg to 1200 kg.
This machine with this particular pump and inversion group allows to treat polyester textured high density till 0,5 Kg/l as well as very soft material like silk 0,3 kg/l density in order to process every kind of material you can have in your dye house. In particular can dye bobbin 1.8 kg cotton, 2,4 kg acrylic, polyester 4 kg or 10 kg tops or muffs. Also tow, loose fibers or fabric in beam.
Main advantages are:
Possibility to dye with liquor ratio from 1.3.8 using in to out single circulation with material not fully covered.
Reduce consumption of chemicals, dyes, water and steam due to low liquor ratio facility.
Reduce power consumption of main pump because pipes are designed to avoid losses of pressure so that main pump is exploited in the best way.
High effciency motor and inverter reduces power consumption as well.
Possibility to dye also in traditional way: air pad, material fully covered and flow circulation in to out and out to in directions.
Characteristics
The principal features of this machine are the minimization of pump pressure losses and volume minimization.
Internal heating coil gives more heating efficiency because it is placed inside the kier, lower liquor ratio (required volume is less) and reduces distances between pipes and carrier.
The use of internal flow deviator reduces volume and sizing of pipes and pressure losses.
Thanks to the improved effciency of the motors and inverter used, higher effciency and lower energy consumption has been achieved.
Saving in space of machine due pipe reduction.
Flexible loading.
Possibility to use same liquor ratio in machines with different size to improve RFT and reproducibility.
Technical data
All the parts in contact with dye bath are manufactured in stainless steel AISI 316L.
The maximum operating temperature is 140° C, and the maximum operating pressure is 6 bar.
Machine has quick opening lid band with double interlock cylinder which is released only when machine is empty, pressure lower than 0.2 bar, temperature lower than 85°C and follows all international standards of safety.
Automatic lowering and lifting lid with air piston, for capacity lower than 100 kg opening and closing of the lid is weight balanced.
Liquor ratio in partial filling mode (ECO MODE) starts at 1:3.8. In normal mode (material fully covered) starts at 1:5,8 or above.
Machine can work from minimum load 30% to maximum load at constant liquor ratio with air pad automatic control.
Machine has analog level control so water/steam consumption are always calculated from controller on line.
Dye baths can be prepared in the 100% stock tank.
Stock tank has analog level to assure correct liquor ratio, is heated and mixed.
Complete reversal of the bleaching and treatment liquors from the dyeing vessel to stock tank can be done using compressed air.
Product tank has analog level, heat exchanger to heat up and mixer.
Analogue dosing even under high temperature and pressure conditions of chemicals from product tank to kier, following programmed dosing curves and flow back from kier to product tank to keep constant liquor ratio during the process.
Machine can have one or two product tanks.
Major brands controllers are available.
Flow meter to regulate bath flow, operation can be based on a programmed number of complete bath turns and automatic differential pressure control.
All connection points to plant mains supplies are located at one defined point at the customer's onsite location.
Some software functions to save water in filling and rinsing and energy in circulation are as standard.
Fill:Filling optimizes dyeing with low liquor ratio. Rinse: rinse can be done either from overflow rinsing or through inject water from heated or cold stock tank directly inside the pkgs and drain is initiated simultaneously to avoid flow contamination.
Draining:Fast drain using air pressurization.
Hight pressure drain.
Inject:fast inject from stock tank, fast drain and fill and heat up of stock tank.
Optional features
Stainless steel panel electric and pneumatic at customer request.
Automatic carrier lock with air piston.
Complete automation of opening and closing lid and safety rings when fully automatic load and unload are required.
Energy Control Program: records the machine's consumption data: water, power, steam.
Coupling with 4 kiers maximum to save space and maximize production and flexibility.
Sampling device and automatic addition program, one pkg size available with small pump.
Air squeeze to extract water from pkgs using compressed air after drain.
Salt dissolving function using circulation continuous between product tank and kier.
Auxiliary products tanks are available.
Conductivity measurement.
Ph measurement on line in the controller with automatic electrode cleaning (nylon dyeing).
For VAT Dyeing a special function avoids air contamination using gas as air pad. Steaming function.
Customer specifications design.
All yarn dyeing machines and the associated material carriers are optimally designed in accordance with the customer's package data and dimensions.
Carriers An important factor when dyeing yarn in packages is the selection of a suitable material carrier.
Uniform flow through each individual package is decisive for good levelness and therefore for a high-quality result of the dyed yarn.
Optimal arrangement of the spindles or packages on the carrier guarantees economic liquor circulation and reduces the liquor ratio to a minimum.
Locking top nut Self-sealing spindle locking device: this locking device ensures optimally sealed yarn columns.
If the yarn columns collapse further during the process, the top plate and the cap automatically follow the packages and hence prevent leakages.
Presses Good preparation of the material is a requirement for achieving high quality dyeing results. Press assures uniform density of the load.
We offer suitable presses for each type yarn dyeing equipment: Single spindle presses or semiautomatic presses.
| Modello | Diametro autoclave (mm) | Kg max (base rocche da 1 kg) | n° aste rocche ø 180 mm | n° aste rocche ø 200 mm | n° aste rocche ø 220 mm |
| --- | --- | --- | --- | --- | --- |
| gs-1300 | 1950 | 1296 | 81 | 69 | 57 |
| gs-1000 | 1650 | 960 | 60 | 47 | 39 |
| gs-700 | 1550 | 728 | 52 | 43 | 35 |
| gs-500 | 1400 | 504 | 42 | 35 | 29 |
| gs-300 | 1350 | 312 | 39 | 32 | 24 |
| gs-200 | 1130 | 200 | 25 | 21 | 18 |
| gs-150 | 950 | 152 | 19 | 15 | 12 |
| gs-100 | 800 | 104 | 13 | 9 | 7 |
| gs-60 | 670 | 64 | 8 | 7 | 6 |
| gs-40 | 500 | 40 | 5 | 4 | 3 |
| gs-24 | 400 | 24 | 3 | | |
| gs-12 | 400 | 12 | 3 | | |