Dyeing apparatus in a bain-marie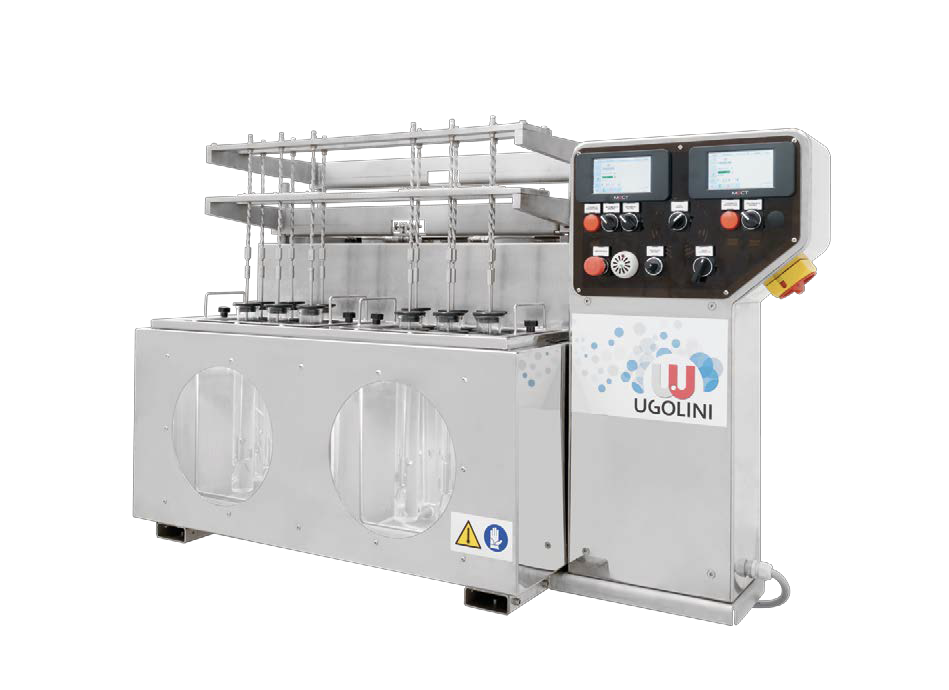 Texair/Texkrome, dyeing apparatus in a bain-marie
To solve the innumerable problems arising from the use of glycol in the heating system, Ugolini srl has introduced a brand-new patented bain-marie dyeing apparatus based on hot air heating system and air/water cooling system (model TEXAIR).
Also available in water or ecological glycol heating and air/water cooling system ver- sion (model TEXKROME).
Process description: the Texair model allows to observe the dyeing process thanks to a special see-through window in hardened glass located on the front and the use of dyeing beakers in Pyrex for dyeing under atmospheric pressure (98° C max.).
Number of dyeing positions: the Texair apparatus has been designed to house 12 dyeing stations: 6+6 beakers at 2 different temperatures. To keep the temperature inside the beakers constant, the hot air passes through special flow deviators which ensure constant temperature throughout the whole tank and therefore inside the dyeing beakers.
Movement of samples: is obtained by a spe- cial agitator with up and down movements. At the same time there is a twisting move- ment which rotates every sample around its axis.
Beakers: Available in Pyrex or stainless steel 316L. The beakers have a capacity of 200 – 300 – 400 and 500 cc and are 360 mm high, as requested.
Heating systems: with hot air (TEXAIR) by means of heating elements and a fan which sends the air inside the tank or by means of water (TEXKROME) heated up by heating el- ements.
Bath cooling performed by cold water circu- lating inside an air/water heat exchanger equipped with a fan which sends cold air into the tank.
Temperature control: the adjustment and control of the temperature is carried out by 2 micro processors. Each micro-processor allows to set the heating and cooling tem- perature, the gradient, holding time, alarms, end of cycle, etc.