Press for large material carriers or portable.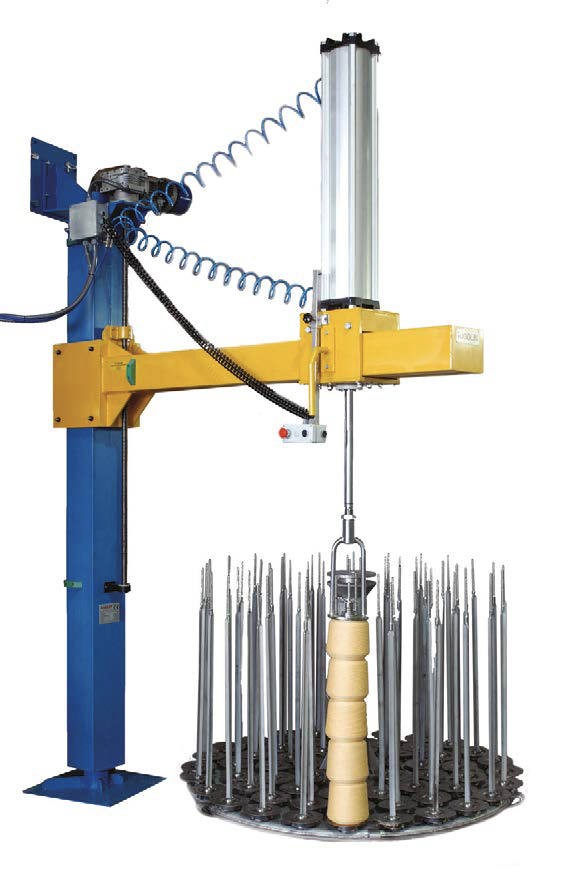 PRESS FOR BOBBINS
Press for big carriers.
Construction in painted iron with a column anchored to the wall, mobile arm with carriage.
The piston is loaded in the carriage.
The arm can also rotate.
Gear motor with self-braking for carriage with piston movement with limit switch.
Electric panel placed on the wall with 2 handed safety commands for the piston movement.
A press suitable for single spindle carriers for small machines is available. Press from height about 2100 mm to 700 mm. Colum dimensions 3000 mm.
Rotating arm length: 2000 mm.
Max piston's run: 1.4 mt.
Air pressure regulator with manometer from 0.5 to 8 bar.
Selector for 3 kind of dierent pressures.
Two handed operation to move the piston to press.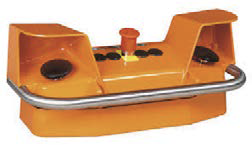 PORTABLE PRESS
Space efficient solution, without the need to dedicate space for a fixed solution. It is easy to press the pkgs in the carrier just moving the press loading device.
The device is controlled only by air and there is no need of electrical power.